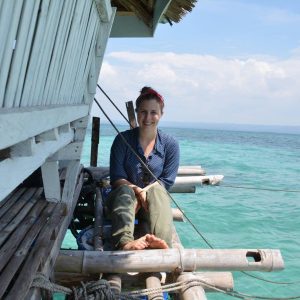 Ashley Perl works with SwedBio communications (part-time)
Perl works with SwedBio communications where she writes; edits web content and reports; produces video and photo content; and manages the social media accounts.
In 2015, Perl completed the Stockholm Resilience Centre's (SRC) Master of Science programme at Stockholm University. Her thesis work, supervised by Tim Daw (SRC) and Heather Koldewey (Zoological Society of London), explored if community natural resource management systems are able to recover after a shock. She used a case of a 7.2-magnitude earthquake that impacted seven fishing villages with community-based marine protected areas in Bohol, Philippines.
During her her time at SRC, she has worked on a number of different projects, such as a co-producer for the massive open online course (MOOC), Transforming Development: The Science and Practice of Resilience Thinking, a research assistant (ie. Arctic Resilience Report), teaching assistant (ie. planetary boundaries MOOC), writer, editor, and other roles.
Perl holds Bachelor of Arts, Honors Sepcialization in Psychology, a minor in Biology, and Certificate in Writing from the University of Western Ontario (2012). Her thesis (2011) and subsequent research assistant work (2012) studied differences in human rhythmic abilities. She also completed two Ontario Universities Program in Field Biology courses studying: the invasive lionfish species' impact on a reef system in Eleuthera, Bahamas (2011); and intertidal zone species in St. Andrews, Canada (2012).
From 2012-2013, Perl worked as an assistant English teacher at Nanyo High School in Kizugawa-shi, Kyoto with the Japanese Exchange and Teaching (JET) programme.
Contact Ashley Perl
ashley.perl@su.se