Discovering nature together and learning from one another across knowledge systems based on equity and mutual respect is at the heart of the MEB approach. Guna Yala dialogue 2012. Photo: Marie Kvarnström.
Inclusive Pathways to nurture Biodiversity: Bridging knowledge systems with the MEB Approach
Biodiversity protection requires respect and recognition of the knowledge, experiences and values of the people that nurture and live with it.
Story highlights
Follow the panel on ILK during IPBES Stakeholder day ⎮ Aug 27
Click your way through the MEB online
The Multiple Evidence Base (MEB) approach has evolved in collaboration between Indigenous Peoples and local communities' organizations deeply engaged in protecting and maintaining their Indigenous and local knowledge, and researchers and practitioners. The aim of the MEB approach is to guide inclusive processes for collaborations across knowledge systems, based on equity and usefulness for all actors involved. It emphasizes that indigenous, local and scientific knowledge systems are complementary, equally valid and useful for exploring sustainable solutions for biodiversity governance.
The new MEB webpage was designed in response to the demand from those who have been inspired by the MEB approach and want to learn how to implement it. The MEB is visualised in five steps, and exemplifies it through partners' piloting experiences and reports. You will also find examples from like-minded methods which cross-fertilize and inspire one another.
Click on the image below to explore the MEB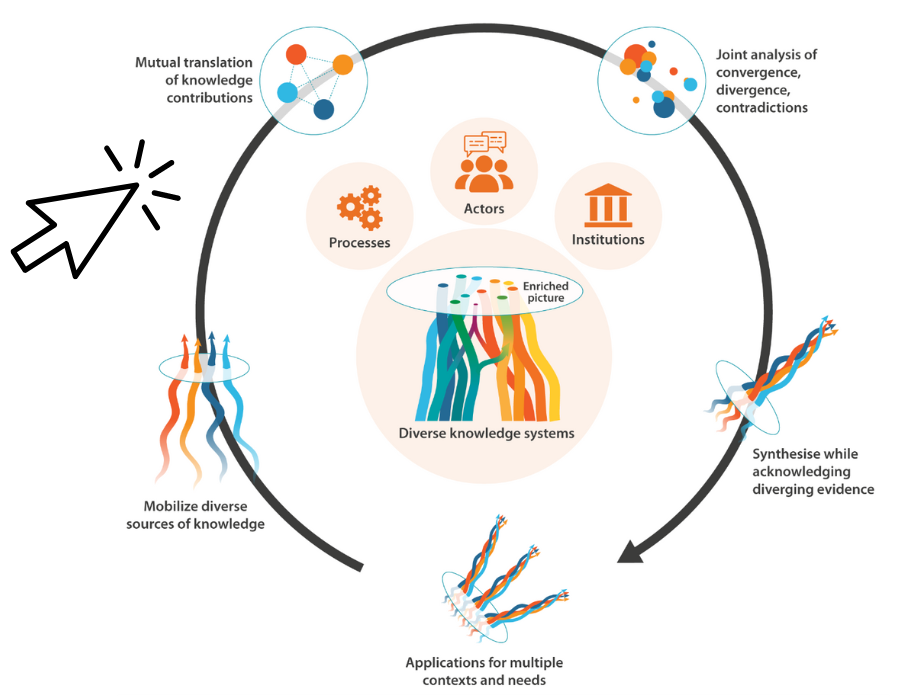 The development of a MEB approach emerged from a dialogue in the Indigenous community Usdub, in Guna Yala, Panama. The Guna Yala dialogue was held in 2012 and was hosted by FPCI and co-organized by ABN, IIFB, FPP, SwedBio and CBM. It took place at a pivotal moment a week before the establishment of the Intergovernmental Science-Policy Platform on Biodiversity and Ecosystem Services (IPBES) in Panama City 2012, where respect and recognition of Indigenous and local knowledge was set as one of the guiding principles. This created a window of opportunity for critical reflections, and contribution of new thinking to the work of IPBES. The dialogue identified essential principles for exchange across knowledge systems: trust, respect, reciprocity, equity, transparency and free prior and informed consent for sharing. Since then, a network of holders of Indigenous and local knowledge and other experts formed a community of practice around the MEB approach.
Why now?
The tenth Plenary of IPBES takes place in Bonn 27 August – 2 September 2023, to focus on current trends and impacts on biodiversity, management options and recommendations for policymakers. The Plenary will in one of its agenda items reflect the experiences of working with Indigenous and local knowledge in IPBES, based on a review of ILK in IPBES made by the Task Force on Indigenous and Local knowledge of the work so far. The review covers the ways in which ILK has been included in IPBES products, as well as in national and regional assessments that are based on IPBES methodologies, and ways of enhancing methodologies for working with ILK and enhancing the participation of Indigenous Peoples and local communities (IPLCs) in IPBES.
IPBES 10 will be preceded by a Stakeholder Day on 27 August. This annual event brings together scientists, members of Indigenous Peoples and local communities, and representatives of civil society organizations to exchange views regarding the issues on the meeting's agenda. On the agenda for this year is a panel on ILK in IPBES, coordinated by SwedBio partners in COD-ILK.
Get started:

SwedBio is looking for mid-term evaluator(s)
[To the full job description/ Terms of Reference] SwedBio is commissioning a mid-term review in order to evaluate our programme design, implementation, progress and learnings during the period 2021-2023 and to give recommendations to support SwedBio and Sida in further... Read more »
2023-09-06

A human rights-based approach in co-creation of knowledge for biodiversity and ecosystem services action
Join us on June 22, 2023, 11:30 AM – 1:PM (CEST) for the Open Webinar on the Human Rights-Based Approach – co-organized by the Biodiversity and Ecosystem Services Network (BES-Net), the International Indigenous Forum on Biodiversity (IIFB) and SwedBio at Stockholm Resilience Centre, This... Read more »
2023-06-21

COP15 POST-MATCH ANALYSIS – HOW CAN THE NEW GLOBAL BIODIVERSITY FRAMEWORK BE A TRANSFORMATIVE MOMENT FOR NATURE AND PEOPLE?
The science is clear; biodiversity is in free fall. Indigenous peoples and local communities have been experiencing and denouncing the loss of biological and cultural diversity. This impacts billions of people's daily well-being in untold ways. It is widely recognized... Read more »
2023-02-02