Indigenous knowledge is key to saving the world's nature
Three years in the making, today marks the launch of the first global biodiversity assessment since 2005
Story highlights
First global biodiversity assessment since 2005
A global synthesis of the state of biodiversity, ecosystems and natures contributions to people
The first biodiversity assessment that have taken advantage of Indigenous and local knowledge as equal valid to science.
SwedBio developed methods for working across knowledge systems, and supported Indigenous peoples and local communities full and effective participation in the IPBES processes
---
The IPBES Global Assessment report outlines a global synthesis of the state of biodiversity, ecosystems and natures contributions to people. Prepared by 150 leading experts in 50 countries, including several researchers from the Stockholm Resilience Centre. SwedBio have contributed through method development together with partners, and through long-term support to Indigenous Peoples and Local Communities full and effective participation through their Caucus "International Indigenous Forum on Biodiversity and Ecosystem Services" (IIFBES) in the IPBES plenaries.
Often described as the 'IPCC for Biodiversity', the Intergovernmental Science-Policy Platform on Biodiversity and Ecosystem Services (IPBES) is the global science-policy forum tasked with providing the best available evidence to all decision-makers for people and nature.
The report offers an integrated overview of where the worlds biodiversity stands in relation to key international goals, including the Sustainable Development Goals (SDGs), the Aichi Biodiversity Targets and the Paris Agreement on climate change. It builds upon over 15000 sources as well as earlier IPBES assessment reports and examines causes of biodiversity and ecosystem change, the implications for people, policy options and likely future pathways over the next three decades if current trends continue, and other scenarios.
"IPBES is a world leader in recognizing indigenous and local knowledge and valuing diverse insights about the state of nature across the world. Indigenous participants at IPBES7 are contributing to the latest global assessment of biodiversity and recommending pathways to protect our homelands from continued biodiversity loss."

Joji Carino, Asia (Forest Peoples Programme / Indigenous and Local Knowledge Centres of Distinction / Member of IIFBES caucus) and SwedBio partner organization.
Watch the launch broadcast LIVE here (13:00 CEST)
Using dialogues to link Indigenous, local and scientific knowledge in IPBES
Knowledge that is embedded within Indigenous peoples and local communities and their diversity of knowledge contributes a wealth of insights about the governance and management of vast areas that are rich in biodiversity, all over the world. Ensuring contributions from diverse knowledge systems are included in ways that are legitimate, credible and useful for all actors is important for informed policy and decision-making. Both The Convention on Biological Diversity (CBD) and the IPBES are important arenas for enabling such "dialogues across knowledge systems".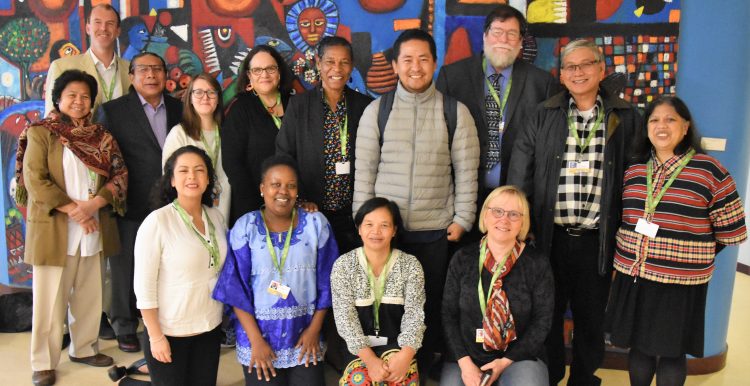 The Multiple Evidence Base approach developed by SwedBio, Stockholm Resilience Centre and partners among Indigenous peoples, local communities and other actors, visualises how this can be put in practice in different processes and scales.
The SwedBio programme at the Stockholm Resilience Centre seeks to contribute to an improved dialogue culture between different actors such as UN organisations, governments, scientists, civil society – including Indigenous peoples, local community organisations and civil society at large – as well as private sector.
SwedBio do this through co-organising several multi actor dialogues which focus on biodiversity. The most recent dialogue focused on reflecting key messages derived from the IPBES Assessment Report on Pollinators, Pollination and Food Production.
"The Indigenous caucus (IIFBES) appreciates greatly the evidence generated by the global assessment highlighting the important contributions of Indigenous Peoples and Local Communities to the conservation and sustainable use of biodiversity and nature's gifts. We look forward to working with all governments, scientists, citizens and all stakeholders involved in this quest for a solution over the coming years. Indigenous understanding encompasses practice, knowledge, spirituality and deep relationships with ancestral lands and sacred places, and it is good to see that this has now been recognised and included in this global assessment".

Lakpa Nuri Sherpa of the Asia Indigenous Peoples Pact (AIPP) and representing IIFBES and SwedBio partner organisation
It brought together 52 participants from 19 countries, including Indigenous and local knowledge (ILK) holders, ILK experts and scientists engaged in the IPBES Pollination Assessment, together with local Indigenous pollinator experts, and representatives from a number of local, national, regional and global institutions and UN agencies.
Learn more about the pollination dialogue
Important aspects of the Global Assessment
As stated in the IPBES Global Assessment Preview there are several important aspects of the Global Assessment:
Covers all land-based ecosystems (except Antarctica), inland water and the open oceans
Evaluates changes over the past 50 years — and implications for our economies, livelihoods, food security and quality of life
Explores impacts of trade and other global processes on biodiversity and ecosystem services
Ranks the relative impacts of climate change, invasive species, pollution, sea and land use change and a range of other challenges to nature
Identifies priority gaps in our available knowledge that will need to be filled
Projects what biodiversity could look like in decades ahead under six future scenarios: Economic Optimism; Regional Competition; Global Sustainability; Business as Usual; Regional Sustainability and Reformed Markets
Assesses policy, technology, governance, behaviour changes, options and pathways to reach global goals by looking at synergies and trade-offs between food production, water security, energy and infrastructure expansion, climate change mitigation, nature conservation and economic development
Links & downloads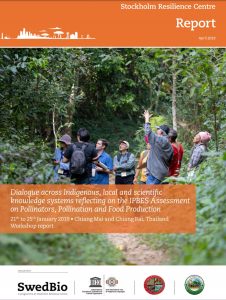 Pollinators dialogue report

SwedBio is looking for mid-term evaluator(s)
[To the full job description/ Terms of Reference] SwedBio is commissioning a mid-term review in order to evaluate our programme design, implementation, progress and learnings during the period 2021-2023 and to give recommendations to support SwedBio and Sida in further... Read more »
2023-09-06

Inclusive Pathways to nurture Biodiversity: Bridging knowledge systems with the MEB Approach
The Multiple Evidence Base (MEB) approach has evolved in collaboration between Indigenous Peoples and local communities' organizations deeply engaged in protecting and maintaining their Indigenous and local knowledge, and researchers and practitioners. The aim of the MEB approach is to... Read more »
2023-08-25

A human rights-based approach in co-creation of knowledge for biodiversity and ecosystem services action
Join us on June 22, 2023, 11:30 AM – 1:PM (CEST) for the Open Webinar on the Human Rights-Based Approach – co-organized by the Biodiversity and Ecosystem Services Network (BES-Net), the International Indigenous Forum on Biodiversity (IIFB) and SwedBio at Stockholm Resilience Centre, This... Read more »
2023-06-21