Rich biodiversity, healthy ecosystems and healthy people
New brief by SwedBio outlines the links between a rich biodiversity and human health
The 2030 Agenda recognises that maintaining and sustainably managing biodiversity and healthy ecosystems are necessary components for reaching the Sustainable Development Goals (SDGs). There are also crucial linkages between rich biodiversity and people's health that contribute to decreasing poverty rates, disaster risk reduction and sustainable development in general.
Reading the brief you will get an increased understanding of why maintaining a rich biodiversity is crucial for people´s livelihood, nutrition and for the agriculture sector. Biodiversity is also an important determinant for the incident of infectious and non-communicable diseases. The biodiversity connections to medicinal resources as well as to climate change adaptation are also outlined in the brief.
There is in general a need for raising awareness and enhancing co-benefits of biodiversity and health. It can help their integration into national public health and biodiversity strategies, and from there into programmes, plans and strategies in other sectors.
We hope this brief will contribute to an increased awareness of the importance of a rich biodiversity for people´s health, with the SDG # 3 about "Ensuring healthy lives and promote well-being for all at all ages" as one of the most crucial SDGs. A healthy planet depends on healthy ecosystems and a rich biodiversity, and without a healthy planet we won´t have healthy people, says Hanna Wetterstrand, Programme Officer at SwedBio and co-author of the new brief.
Links & downloads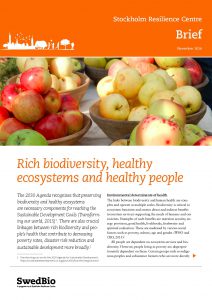 Read the new brief on links between a rich biodiversity and human health

NEW PAPER: Adopting a human rights-based approach to biodiversity and climate action
There are several key opportunities to guide more ambitious national actions that address climate change and biodiversity loss in an integrated manner, reduce harm, ensure fairness and justice for all. Read the full discussion paper here. These opportunities are present... Read more »
2023-10-16

SwedBio is looking for mid-term evaluator(s)
[To the full job description/ Terms of Reference] SwedBio is commissioning a mid-term review in order to evaluate our programme design, implementation, progress and learnings during the period 2021-2023 and to give recommendations to support SwedBio and Sida in further... Read more »
2023-09-06

Inclusive Pathways to nurture Biodiversity: Bridging knowledge systems with the MEB Approach
The Multiple Evidence Base (MEB) approach has evolved in collaboration between Indigenous Peoples and local communities' organizations deeply engaged in protecting and maintaining their Indigenous and local knowledge, and researchers and practitioners. The aim of the MEB approach is to... Read more »
2023-08-25