Mobilizing indigenous knowledge, innovations and practices of the Kalanguyas farming systems in Tinoc, Ifuago, the Philippines.
A contribution to the Piloting of the Multiple Evidence Base Approach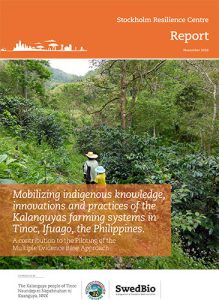 This report presents the outcomes of a collaborative partnership between Tebtebba Foundation, Philippines and SwedBio for piloting a Multiple Evidence Base approach to co-generate knowledge and methods for mutual learning across knowledge systems.
As a response to exploitation and degradation of their ecosystem, the Kalanguyas have gone through a process of unification over the last decade, contributing to revitalizing their indigenous knowledge and confidence in their culture and local practices. The process empowered them to identify innovations that could strengthen their farming systems, such as the System of Rice Intensification, and Indigenous Micro Organisms. Farmers engaging in the pilot project used indigenous methods as well as methods from western science to test these innovations in the inum-an, or rotational farming areas and the payew, the traditional rice terraces, with important results that contribute to the revival of sustainable agricultural practices and increased yields.